This ranks somewhere on my TBR Tackle, but I've forgotten how far into the challenge I am at this point…oops!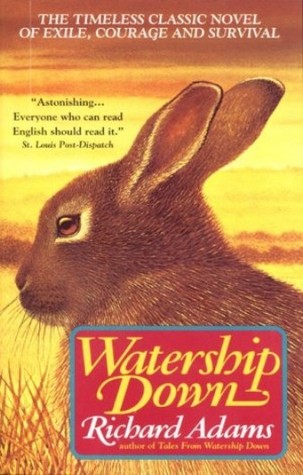 Set in England's Downs, a once idyllic rural landscape, this stirring tale of adventure, courage and survival follows a band of very special creatures on their flight from the intrusion of man and the certain destruction of their home. Led by a stouthearted pair of friends, they journey forth from their native Sandleford Warren through the harrowing trials posed by predators and adversaries, to a mysterious promised land and a more perfect society.
MY RATING: 5 STARS
This had been sitting on my shelf for well over a year after I bought it (shocking, I know), and it wasn't until seeing it mentioned in another book that I finally decided to pick it up. And once I did, I couldn't put it down. Trust me, I get the hype now. Why didn't I read this SOONER?!
There was so much to love about this, and it's definitely earned to be called a classic. The rabbits of Watership Down, considered a ragtag bunch to outsiders, are impossible not to love. Their courage and loyalty get you in their corner right away; I was cheering them on from the get-go and hoping they succeeded in building a new home for themselves. Their journey to the down and their fight to protect their warren and each other, a basic premise, made for a straightforward but profound story, and when I finally finished reading I had to stop and collect myself before I could move on. I almost couldn't resist the temptation to turn around and read it again right away, I enjoyed it that much.
It's not hard to understand why this is still considered a classic, forty years after publication. There is a timelessness to its core themes of family and survival that relates to any day and age. Mr. Adams's language is alternately direct and poetic (there is a certain passage about moonlight I felt compelled to stop and make note of). It's heartening, heart-wrenching, and heart-warming. It was completely entertaining from page one. In short, it was a prime example of good storytelling.
I say this quite often about books I enjoy, but I'll be recommending this one for quite some time. If you haven't read this yet, do it! I urge you!