Ha! Told you I had something in the works! This one marks book two towards my goal of 15 in the TBR Tackle…I need to get a move on!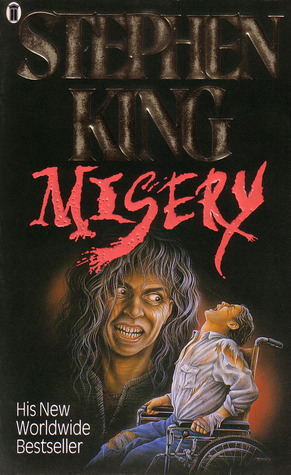 Misery Chastain was dead. Paul Sheldon had just killed her – with relief, with joy. Misery had made him rich; she was the heroine of a string of bestsellers. And now he wanted to get on to some real writing.
That's when the car accident happens, and he wakes up in pain in a strange bed. But it isn't hospital. Annie Wilkes has pulled him from the wreck, brought him to her remote mountain home, splinted and set his mangled legs.
The good news is that Annie was a nurse and has pain-killing drugs. The bad news is that she has long been Paul's Number One Fan. And when she finds out what Paul has done to Misery, she doesn't like it. She doesn't like it at all.
And now he has to bring Misery back to life. Or else…
MY RATING: 5 STARS
I've been dragging my feet writing this review. Why? Because I liked the book so darn much I was afraid I couldn't do it justice. Yep, that much.
I'll start off with a word of congratulations to Mr. King. Finally! A book that scared me! Annie Wilkes kept me awake at night and made me jump at small noises. I knew five pages in that she was going to be crazy as hell, but I wasn't prepared for how totally off her rocker she was. Yikes! I didn't know if I was going to like Paul Sheldon at first, but then I started feeling VERY sorry for him and it wasn't too long after that I was holding my breath hoping he would dog it out.
I'm always more a fan of Mr. King's insight than his scare tactics, and holy moly, was this one insightful. Annie's obsession with Paul's heroine was a grisly commentary on the power of fiction to maintain a captive audience (captive writers notwithstanding), and Paul's plunge into creating this masterpiece for his "number one fan" displays the escapism involved not just for the readers, but the writers as well. There is also the case of Annie's mental disorder, and while the gore and the horror were pretty gnarly, my favorite aspect of the book was the battle of wits between Paul and Annie. She had the upper hand, he was injured and feared for his life, but so long as he had Misery Chastain, he had power.
All in all, an intense psychological horror and one of my favorite Stephen King novels to date. Not for the faint of heart, but definitely worth reading.