Vampire Academy, book three
(First review of 2015!)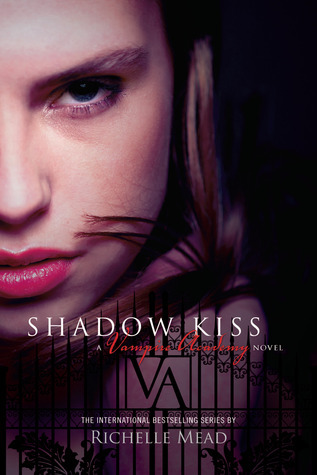 It's springtime at St. Vladimir's Academy, and Rose Hathaway is this close to graduation. Since making her first Strigoi kills, Rose hasn't been feeling quite right. She's having dark thoughts, behaving erratically, and worst of all… might be seeing ghosts.
As Rose questions her sanity, new complications arise. Lissa has begun experimenting with her magic once more, their enemy Victor Dashkov might be set free, and Rose's forbidden relationship with Dimitri is starting to heat up again. But when a deadly threat no one saw coming changes their entire world, Rose must put her own life on the line – and choose between the two people she loves most.
MY RATING: 5 STARS
Richelle Mead really upped the ante on this one. The first two books of the series were good, but Shadow Kiss blew them out of the water.
My complaints about books one and two were the same: Rose was immature, Lissa was so freaking fragile, and the background characters were, well, part of the background. That changed completely. Rose is more grown up, Lissa is capable of fighting hey own battles, and the secondary cast is much more developed. Eddie Castile and Adrian Ivashkov in particular are awesome. Then of course there's Dimitri…'nuff said.
Further along the lines of raising the stakes, things are getting serious at St. Vladimir's. The blurb is a little misleading, so here's the rundown. The senior dhampirs are undergoing field training, a class struggle is breaking out among the Moroi, Lissa is using her potentially dangerous spirit magic again, and Rose is seeing ghosts. Yep, ghosts. Throw in a few Strigoi and this becomes the most intense installment yet, and I can't even talk about the really good stuff because it's all spoilers!
I've heard someone say that a Richelle Mead series doesn't really hit its stride until a few books in, and I believe it now. This is rounded out, but there are hints to how the series will progress, and things are starting to come together. I'm glad of that, because it makes me that much more excited to see what happens next. Blood Promise, here I come!