Now that I FINALLY got around to the second half of the series, I thought I'd better get a move on and post my reviews for book one and two. Keep in mind that this review went up when I first read the book…in 2011. If I took the time to re-read it, I might find I've changed my opinion of it.
Fallen, book one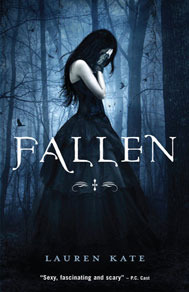 What if the person you were meant to be with could never be yours?
17-year-old Lucinda falls in love with a gorgeous, intelligent boy, Daniel, at her new school, the grim, foreboding Sword & Cross . . . only to find out that Daniel is a fallen angel, and that they have spent lifetimes finding and losing one another as good & evil forces plot to keep them apart.
Get ready to fall . . .
MY RATING: 4 STARS
Don't you just love that cover?
Not being a huge fan of the urban fantasy genre, I didn't really expect to like this book as much as I did. I was hooked from the prologue, and could hardly put it down until I'd finished it.
Strangely enough, what struck me most was the use of setting. Ms. Kate puts her semi-Gothic, antebellum, remodeled reform school to work that only serves to make what is already a shadowy, enigmatic story into a thriller. Cemeteries, cathedrals, creepy woods…it all heightens the suspense, and what better setting for a story about angels?
The characters kept me going too. Just when I thought I'd figured everyone out, the plot takes another turn and I had to reevaluate the conclusions I'd reached. Daniel himself is described as "hot one minute and cold the next" and Luce, while not being so mysterious on her own, certainly was in the middle of a big mystery. Why are so many people interested in her? What are the shadows that have stalked her all her life?
Again, even though I'm not a fan of the genre in general, I really enjoyed this book. It was romantic, suspenseful, funny, and addictive. I can't wait to read the next one in the series!