Sevenwaters, book one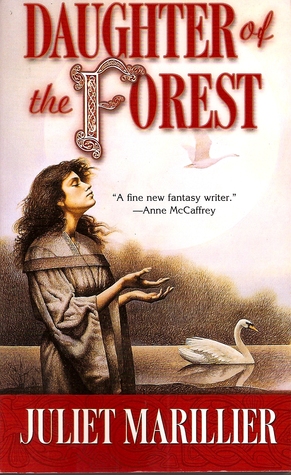 Lovely Sorcha is the seventh child and only daughter of Lord Colum of Sevenwaters. Bereft of a mother, she is comforted by her six brothers who love and protect her. Sorcha is the light in their lives, they are determined that she know only contentment.
But Sorcha's joy is shattered when her father is bewitched by his new wife, an evil enchantress who binds her brothers with a terrible spell, a spell which only Sorcha can lift-by staying silent. If she speaks before she completes the quest set to her by the Fair Folk and their queen, the Lady of the Forest, she will lose her brothers forever.
When Sorcha is kidnapped by the enemies of Sevenwaters and taken to a foreign land, she is torn between the desire to save her beloved brothers, and a love that comes only once. Sorcha despairs at ever being able to complete her task, but the magic of the Fair Folk knows no boundaries, and love is the strongest magic of them all…
MY RATING: 5 STARS
I don't think I've ever–EVER–cried so much while reading a book. I'm writing this review months after reading it (you could say I'm getting lazy) and I'm still getting choked up just thinking about it!
Ms. Marillier first caught me with Wildwood Dancing, so when I finally got my hands on her debut novel, I was braced for the same deal all over again, but with different quality writing. I was expecting a voice less distinct, a style less developed, and certain mechanical speed bumps that usually appear with first-time authors. And boy, was I wrong! Apart from a few clarity issues in the very beginning, there was absolutely nothing to mark this as a debut. What I found was a beautifully crafted retelling of one of my favorite fairy tales, "The Seven Swans." The Celtic backdrop, the theme of magic, and Ms. Marillier's enchanting–and often heartwrenching–writing took me to another world I found it impossible to step out of. Picture it, yours truly curled up in a deck chair on the back porch for nearly five hours straight finishing this book, either crying buckets or seconds away from it, smiling on occasion, biting my nails when the suspense gets to be too much, and making random outbursts when I just can't handle it.
Sorcha was vividly drawn and I was able to identify with her immediately. The love she had for her brothers was outstanding, to weave the shirts of starwort day after day and suffer so much, and be unable to speak a word lest the curse on her brothers remain permanent. Her strength and courage were moving, which is no less than what I expect in a character this well-written. Bonus points for JM! As for Sorcha's brothers, I don't know who I loved the most, wise and compassionate Conor or selfless and restless Finbar. And Red, sweet, patient, understanding, wonderful, wonderful Red…<3 If he was a bit dimwitted about the fair folk, it wasn't his fault. He's an Englishman.
I'm always keeping an eye on an author's use of language, and Ms. Marillier's was lyrical. I love it when I can say that about a book! Sorcha's voice was strong and dynamic, and I felt everything she did, her pain, her fear, her love. Even though I knew how the story had to end, there were so many twists in circumstance that I seriously wondered how it could end well. It did, like all good fairy tales, but not in the sense I expected. This was definitely no Disney reboot. The journey was harsh, the struggle nearly beyond endurance (because, really, you're right there with Sorcha and you don't take the trip with her so much as her), and the ending was so bittersweet I could just about taste it.
Yet for all that, the emotional turmoil and the tears and the feels, oh my Lord, the feels, I would read this again. I never wanted to let it go, it had such a hold on me, and it still does months later. A fact that speaks for itself, wouldn't you agree? This was the best book I've read so far this year, and I can't wait to see what comes next at Sevenwaters.